Contact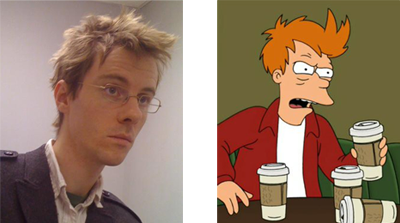 One of these is me.
I will never bother to write a real contact form. Frankly, I wouldn't check the mail if I had it. You can reach me at [email protected]
The lack of ads on this site is because I'm more interested in getting a publishing deal and some old-fashioned fame, so I value readability over token profit. However, I live in Brooklyn, and could always use some money, if you'd like to use this handy little donating widget.
Well, I caved. No ad boutique would touch this site given its content and severe lack of focus, but I'm tossing on some google ads because passive income would actually be kind of nice and I really should be doing a better job of catching up to the 21st century. Oh, if you're an advertiser with a sense of humor, I get ~40k uniques and ~70k pageviews a month, mostly 20- to 35-year-old tech people getting linked to Programming Sucks. So I got that goin' for me, which is nice.
Be warned, if it's an offensive word to or on any list of English profanities, it's somewhere on this site, or will be soon. I also leave up old things written by a younger, angrier, and much dumber me, occasionally suggesting viewpoints that make me wince now. I take reponsibility for my past, unless it's convenient and plausible to blame it on someone else.
I still live in Brooklyn, so the donation widget stays. I also have this Autotip thing installed for bitcoin. I almost started mining back in 2008 but gave up because it didn't seem worth the effort. Hindsight, amirite?
Hi there! You should totally go
buy my book for the low low price of 6.73!
It's like buying me a beer at an out-of-the-way dive bar in Brooklyn! Not in Manhattan. Manhattan prices are ridiculous, though there are a couple of decent Irish dives where you can snag a drink for five bucks. Otherwise, you're looking at a two or three book beer.